How was everyone's weekend?? It's pretty crazy that we're almost done with July...it feels like the months are going by so fast!
Today's oh-so-fun motif is [drumroll, please...] flaps! So many books utilize flaps, layered pages, and movable parts to enhance the reading experience and further engage readers: in order to get the most out of the narrative, the reader must lift flaps, peel apart layers, and move pieces of the illustrations. Let's dive in with a definite Caldecott contender (and a book everyone has been talking about since it came out in February), Flora and the Flamingo. Molly Idle takes the idea of showing movement through illustration to a whole new level, utilizing layers rather than multiple illustrations on one page. Here's a perfect example:
Before the flaps are folded down
And after the flaps are folded
This book is beautiful and there isn't a page that disappoints. Idle manages to show a wonderful sense of movement while still maintaining the same overall sense negative space and minimalism, which is enhanced by the fact that the book is wordless. Not every page has a flap for readers to open or move, but the flaps that are there leave readers guessing and laughing at the funny shapes Flora and her flamingo make together.
Another book along the same lines is Norman Messenger's Imagine. Have you seen this book? It's pretty awesome. Even from the cover Messenger engages the reader. Instead of having a traditional book cover Messenger uses essentially a half cover that, when moved up and down along the book, produces different images. Take a look: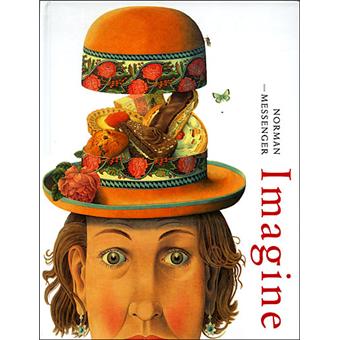 And here it is without the cover at all:
The inside of the book is pretty fascinating, too. It poses mathematical questions and surreal situations for the reader to imagine, such as imagining a face without a mouth or a clock without hands. Best of all, though, are the layers and movable pieces he uses. For example, one movable page shows six heads with interchangeable faces. It's hard to explain, so take a look: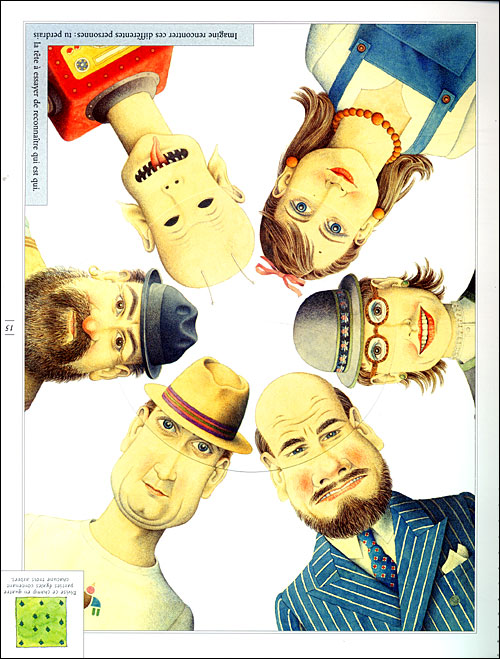 The whole inside circle moves around so the reader has a ton of fun images to take in and discuss. Or look at these interchangeable animal parts: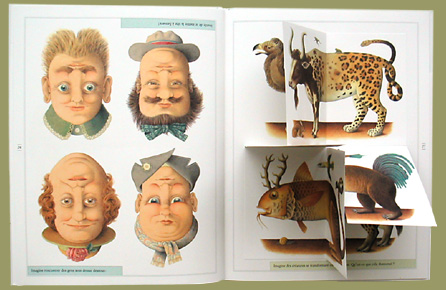 The number of possibilities are, while technically not endless, quite prolific.
A book that is very similar in its setup is Birds of a Feather by Pittau and Gervais. There are a ton of fun flaps for readers to open that include fun facts about birds from all over the world:
Again, the number of possibilities is quite high, and readers get to experiment with different birds to note their similarities, interchangeable aspects, and differences. I'm sure it goes without saying, but the illustrations are technical and beautiful.
There is one other book I want to mention, Extraordinary Pets by Barroux (which actually inspired this post). I'm going to freely admit that my picturebook budget these days is somewhat limited, but the moment I saw Extraordinary Pets I fell in love with it and had to buy it. It's actually been out for three years, but this is the first I'd seen of it. Barroux writes and illustrates a story about kids who dream about having pets more extraordinary than the typical cat or dog. Instead, these children dream about owning tarantulas, flamingos, giraffes, and alligators. And Barroux does a wonderful job of linking the children he draws to the animals they wish to have. Below is the perfect example:
Before the flap is...flapped
And after the flap has been flapped
It's a fun read (albeit with a lackluster ending), but the illustrations alone really help carry the book, as does the surprise of guessing what might be behind the flap based on the child on the verso (lefthand) page.
Can anyone else think of any other books that fall into this category?
Flappingly yours,
Mel